Astronaut Tim Peake posts Isle of Man space photograph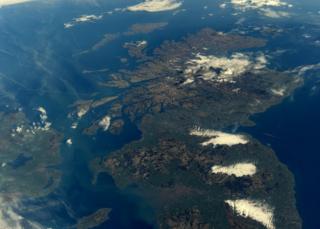 A photo by British astronaut Tim Peake showing Scotland, Northern Ireland and the Isle of Man from space has received more than 40,000 likes on Facebook.
The 44-year-old from Sussex captured the image from the International Space Station on Monday.
On Twitter and Facebook, he said: "Scotland, Northern Ireland and Isle of Man looking good this morning!"
Peake, who became the first British man to complete a space walk in January, is spending six months on the ISS.
The former British Army officer is the sixth person born in the UK to go on board the station.