David Manley's family make Isle of Man road safety video after death crash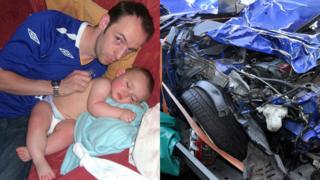 The family of a man who died in a car crash on the Isle of Man have been praised for their bravery after appearing in a new road safety video.
David Manley, 28, died after crashing his car in Union Mills in 2007, leaving his partner and his 11-month-old son.
His partner Sherry Mesina said it is "heartbreaking" to watch Leon, nine, grow up without knowing his father.
Police said they were "brave" appearing in the video holding a picture saying "don't let your loved ones go".
Ms Mesina and Leon appear in the video with Mr Manley's mother, Caroline.
It will be shown at ferry terminals on the island and the UK, Isle of Man airport and cinemas.
Ms Mesina said his family and friends will "always bear the scars" and her son will never get to know his father who died after crashing on 10 September 2007.
She said: "I want to keep David's memory alive and we hope this video will help make others think on the roads."
"You never get over the loss."
Isle of Man police said there have been 34 fatalities on island's open roads in the past five years and 230 people have been seriously injured.
Det Con Mike Crompton said: "We deal with the accidents but the family have to live with the consequences.
"David's family have been very brave to be part of this campaign. I hope it resonates with drivers and makes them think."
Ms Mesina said: "Leon didn't know the full story - he is hearing about it for the first time and it has really upset him.
"It has been very hard. We talk about his dad with him every day."
Mr Manley's mother said she hopes it helps to reduce the amount of crashes on Manx roads.
She said: "Losing David almost broke us. It is heartbreaking. We deal with it every day but have never come to terms with it."