Chris Killip: Harvard professor in Isle of Man exhibition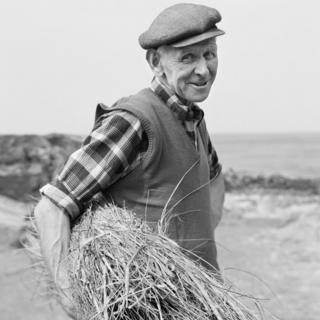 Historic images of the Isle of Man taken by acclaimed photographer Chris Killip have gone on display for the first time at The Manx Museum.
Killip, who is currently a professor of visual arts at Harvard University, was born at his father's pub on the Isle of Man - the Highlander Inn - in 1946.
His work was included in an exhibition at London's Tate Gallery in 2014.
The images, which are being displayed at the Manx Museum between 7 May and 30 July, were taken in the 1970s.
Mr Killip said it made him happy that the work is in the Isle of Man "because that is where it well and truly belongs".
"It is more open to all sorts of other meanings which it couldn't have in other places because it doesn't belong," he added.
Mr Killip lived on the Isle of Man until his late teens when he moved to London to work first as a photographer's assistant and later as a freelance photographer.
Manx National Heritage said "He returned [in the 1970s] to photograph the island, recording buildings, interiors, natural features and people of all ages at work and rest.
"What he saw and what he chose to photograph has the ongoing power to startle and unsettle as well as to mesmerise and delight".
Chris Killip will also be hosting a talk and book-signing session at the Manx Museum on Saturday.