Two 'endangered' lemurs born at Isle of Man wildlife park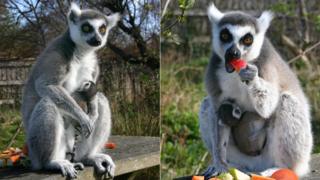 Two baby ring-tailed lemurs have been born at an Isle of Man wildlife park.
The new arrivals, who have not yet been named, were born to two of the park's resident females, Acorn and Sakarana.
Lemurs, best-known for their black-and-white striped tails, are indigenous to Madagascar and are classified by the International Union for Conservation of Nature (IUCN) as endangered.
The Curragh's General Manager Kathleen Graham said both of the new mothers and their babies were "doing well".
'Clinging to their mothers'
Ms Graham said: "Females were only reintroduced to the park last year, so these are the first babies for some time.
"At present they can be seen clinging to their mothers' bellies before they start to venture off by themselves.
"We are looking forward to them becoming more independent as they start to explore their surroundings."
In the wild, only about half of newborn lemurs survive beyond a year and only three in 10 to adulthood.
This is largely because of predators, harsh natural conditions, and falls from trees.
Ring-tailed lemur facts
Females are dominant over males - this is common in many lemur species
The name 'lemur' is derived from the Latin word for 'ghosts'
Females only have about one day a year when they are able to conceive
Native to Madagascar, they are highly sociable with a heightened sense of smell