WW1 internment: Appeal launched to find Knockaloe huts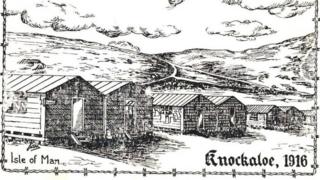 An appeal has been launched to locate and reinstate huts used to intern enemy soldiers at an Isle of Man internment camp during World War one.
About 23,000 prisoners of war, mainly from Germany, were detained at the Knockaloe Farm camp between 1914 and 1919, which also housed 3,000 guards.
A local charity is now looking to reinstate the original huts as part of a visitor attraction on the site.
A spokesman said one hut has already been donated.
The Knockaloe and Patrick Visitors Centre project spokesman said the huts can be used to help tell the "Island's critical role in WW1 internment".
'Architectural history'
He said: "We should hate to see this architectural history be demolished."
"If you have a hut or simply remember that should you wish to one day replace one - we would be delighted to give it a new home".
After closure in 1919, the Knockaloe site was returned to its former state as a farm.
This 22-acre camp was divided into 23 compounds, each with four camps made up of wooden hut-like buildings.
Anyone who owns a hut is asked to contact the group.
The Isle of Man became the second largest settlement of internees in the British Isles during WW1.
The charity has been set up to develop an on-site Visitors Centre and online archive to bring the "human aspect of the camp to life".