Promoter Vision Nine 'signals new era' Isle of Man TT races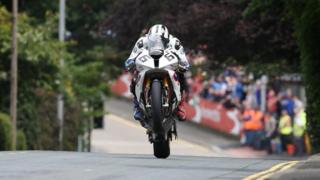 The appointment of an event promoter could spell a "new era" for the Isle of Man's 108-year-old TT races, a Manx politician has said.
Tynwald approved the appointment of London-based Vision Nine on a 10-year contract this week.
David Cretney MLC said it "signals a new era" for the event from 2017, as the firm is promising to boost the economy and grow spectator numbers.
The Manx government has promoted the TT since it began in 1907.
Mr Cretney said: "This decision signals a new era for the development and realisation of the TT and Classic TT's potential for the benefit of our island."
'Next level'
Last year around 43,000 people visited the Isle of Man during the event which generated £25m for the economy, according to Economic Development Minister Laurence Skelly.
Mr Skelly said the new promoters "demonstrated a real passion and knowledge about the TT".
He added that they have the skills and investment to take the TT to the "next level" and "capitalise on progress" made by the government.
Vision Nine will take over a "significant level" of operational, promotional and commercial delivery for the 2017 TT as well as promoting the Classic TT, a government spokesman said.
Vision Nine's Julian Topham said the firm plan to deliver "real growth in spectator numbers" and "economic benefit for the Isle of Man over the next 10 years."