IoM parole inquiry slams 'lack of police involvement'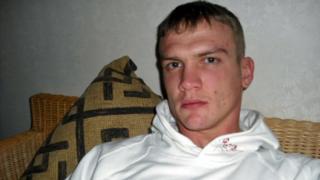 An inquiry has criticised the "lack of police involvement" in the release and monitoring of a prisoner on parole.
The Manx investigation was ordered after Donovan Kitching pleaded guilty to the death of Gwen Valentine, 62, by dangerous driving in April 2014.
He had been released from jail three weeks earlier after serving a six-year sentence for aggravated burglary.
The inquiry heard police did not attend a multi-agency meeting prior to Kitching's release on parole.
Ms Valentine's son, Stuart, said: "If more information had been exchanged, things may have been different."
The inquiry heard that during the first few weeks of release, Kitching had been involved in two alcohol-related incidents when the police were called.
Neither was reported back to his community parole officer.
Isle of Man parole said had they been aware things were going wrong, Kitching may have been recalled to prison immediately.
"What concerns me is most is the confusion and lack of engagement between the agencies involved," added Mr Valentine.
"There were missed opportunities along the way and that is all it takes for things to go horribly wrong.
"I do not hold any single person accountable for my mother's death, except Mr Kitching, but I hope recommendations are made to make sure more information is exchanged".
Kitching, from St John's in the Isle of Man, was jailed for ten years in October 2014 after he admitted knocking down Mrs Valentine from Winchester, Hampshire, who was out walking with her family.
He received parole in March 2014 and was released about 14 weeks early.
The inquiry heard that on the Isle of Man, at the time of Kitching's release, police were invited to all multi-agency meetings but invariably missed them because of a lack of resources.
Giving evidence on Friday, Chief Constable Gary Roberts said changes have since been put in place and in the past six to 12 months police have recorded a 90% attendance rate.
The parole inquiry, led by Geoff Karran, was held between 12 and 18 April. A report is expected to be submitted to Tynwald later this year.