Onchan MHK Peter Karran to stand down after three decades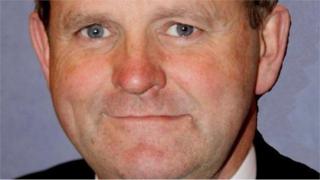 One of the Isle of Man's longest-serving politicians is to stand down after more than three decades as an MHK, it has been confirmed.
Founder and former leader of the Liberal Vannin Party, Peter Karran has represented Onchan since 1985.
He was sacked as education minister in 2012 after opposing the government's decision to invest millions of pounds in the film industry.
Mr Karran said he had often been a "lone voice" in parliament.
He told his constituents: "It is time for me to give someone else the opportunity to serve you; for someone else to take on the challenge of standing up, in our parliament, for those who need to have truth spoken to power - and to oppose what must be opposed."
He added: "I have often been a lone voice speaking out against policies and projects that have proved to be wasteful of public funds."
'Greatly missed'
The 55-year-old former education and children's minister founded the Liberal Vannin Party in 2006, leading them until 2014.
His replacement, Douglas South MHK Kate Beecroft, said he was the "reason she joined the party".
She said: "To say that he will be greatly missed is a real understatement."
Liberal Vannin Chairman Roy Redmayne said Mr Karran has always stood up for what is right "regardless of the consequences".
Mr Karran said he would continue to work for the party after stepping down in September.