Paroled prisoner Donovan Kitching had 'shocking record'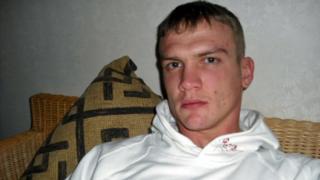 A violent man with a "shocking prison record" knocked down and killed a woman after being released early from jail, an inquiry heard.
The parole system investigation was ordered after Donovan Kitching pleaded guilty to the death of Gwen Valentine, 62, by dangerous driving in April 2014.
Kitching was "volatile" and had a "lack of respect for the law", said the head of the inquiry Geoff Karran.
The inquiry is examining whether it was appropriate to release him on parole.
Kitching, from St John's in the Isle of Man, was jailed for ten years in October 2014 after he admitted knocking down Gwen Valentine from Winchester, Hampshire, who was out walking with her family.
At the time of the accident, he was under licence, having been released from jail three weeks earlier after serving a six-year sentence for aggravated burglary.
'Turning a corner'
During this spell inside, he committed a total of 33 offences in custody including assaulting another prisoner, fermenting alcohol and threatening a prison officer, the inquiry heard
"He wasn't what I would call a changed man," added Mr Karran.
However, according to former prison governor Alison Gomme, there was evidence Kitching was "turning a corner" towards the end of his sentence.
He received parole in March 2014 and was released 14 weeks early.
A few weeks later, Kitching knocked over and killed Gwen Valentine, 62, on the Tholt-y-Will Road.
She had been retired for just over a week and was planning to get married.
Police said Kitching had never passed a driving test, was over the drink-drive limit and was in possession of Class A drugs.
Kitching's probation officer, Linda Watts was among those called to give evidence. She was one of two officers who recommended Kitching's early release.
She told the inquiry that, initially, "he seemed to be coping well".
"His family had given him a place to stay and a job - this kind of support is key for successful reintegration.
"In hindsight, I would have strengthened his licence conditions around drinking and going to pubs. I would have also checked he was really staying with his family".
The inquiry continues.