Isle of Man's: Mountain Road closes for TT preparations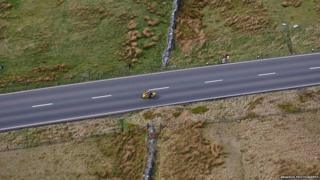 The Isle of Man's Mountain Road has been closed for two weeks for "essential maintenance" ahead of this year's TT races.
The A18 Mountain Road will remain closed from the Creg-ny-Baa through to Ramsey Hairpin until 23 April.
A government spokesman said it is to allow for patching, temporary signage and re-profiling the carriageway.
During the Isle of Man TT festival motorbikes reach speeds of up to 200mph on the road.
A government spokesman said the work, which is costing £125,000, will "extend the life of one of the Isle of Man's main strategic routes".
The annual TT festival, due to begin in May, attracts about 40,000 fans to the Isle of Man.