IoM government in talks over Liverpool landing stage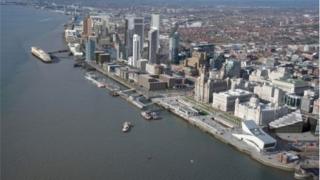 The Isle of Man is considering spending more than £15m on a new ferry landing stage in Liverpool, the Manx government has confirmed.
The move follows plans to redevelop the current Pier Head landing stage into a cruise liner terminal for the city.
Talks are continuing with the Peel Group about relocating Isle of Man ferry services and building a new ferry terminus on nearby Waterloo Dock.
Infrastructure minister Phil Gawne said a reported £15m cost was "optimistic".
Mr Gawne has already met Liverpool Mayor Joe Anderson about plans to double the number of cruise line passengers visiting the city.
It is part of the £5.5bn Liverpool Waters scheme put forward by the Peel Group.
A spokesman for the Manx government said the current landing stage in Liverpool owned by Peel is "nearing the end of its operational life."
Having its own landing stage would give the Isle of Man "more control" over future ferry services and that it would offer "enhanced facilities."
He said: "The current thinking is for government to invest capital funding and recoup the costs over 20 to 30 years through port fees charged to the ferry operator".
Mr Gawne said it would "not be appropriate to speculate on costs" of building a new landing stage but said the £15m figure being reported is "optimistic."
Details about the proposed move were first revealed during presentations by Peel Group at this year's international property and investment expo in Cannes.
The Isle of Man Steam Packet Company is yet to comment.