Views sought on IoM coastal management economic and conservation plan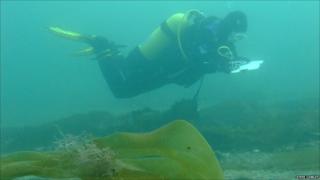 People are being consulted on whether coastal activities around the Isle of Man should be better co-ordinated.
The plan would see a three-mile zone established around the coastline which would control the likes of fishing, recreation and conservation.
"Zoning will mean each activity can be managed around developing its full potential and in a sustainable way," said Fisheries Minister Richard Ronan.
"We all benefit from conserving a healthy marine environment."
The consultation will run until 19 May and all interested parties are invited to give their views.
A government spokesman said they want to ensure that the "economically important fishing industry, and the marine environment that supports it, are protected for the long-term".
He added: "Other activities including charter fishing, wildlife tourism and diving - which also contribute to our economy and way of life - would all benefit from a better quality marine environment."
The views of sea users are also sought on the potential establishment of a second Manx marine nature reserve within the 0-1 mile area.
Peter Duncan, the government's fisheries project manager said: "A zoned reserve already exists in Ramsey Bay which allows for a range of activities including potting for lobsters, preservation zones for eel grass and horse mussel reefs, and an increasingly valuable scallop fishery."
The Isle of Man's territorial sea extends for 12 nautical miles (22km).