Isle of Man Snaefell Mountain Railway tram crashes after derailing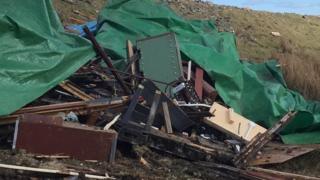 An electric tram rolled backwards and derailed before crashing on a mountain on the Isle of Man.
The Snaefell Mountain Railway (SMR) tram was almost completely destroyed after it crashed at about 14:30 BST on Wednesday. No-one was on board.
Thirty passengers were stranded at Snaefell mountain's summit before being brought back to Laxey.
The Manx government said an independent investigation into the cause of the incident has been launched.
Infrastructure Minister Phil Gawne said: "It's a very disappointing situation and the inevitable costs that will come about as a result.
"However, looking for positives, nobody was hurt in the incident which is a great relief to all".
A SMR spokesperson said "The cause of the incident has not yet been determined and it would be inappropriate to speculate at this stage."
The SMR joins the village of Laxey with the summit of Snaefell. It has an electric railway line of about five miles (8 km) long.
It is part of the Manx Electric Railway which is recorded in the Guinness Book of World Records for operating the oldest tramcar in the world.