Brazilian tapir born at Isle of Man's wildlife park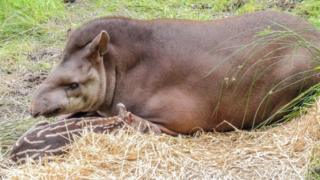 A Brazilian tapir has been born at a wildlife park in the Isle of Man.
The unnamed male calf was the born to Curraghs Wildlife Park's resident pair Louka and Thackery.
Tapirs are currently listed as vulnerable on the International Union for Conservation of Nature's Red List of threatened species.
General manager Kathleen Graham said the new tapir is "quite a star". People can suggest a name for the calf on the park's Facebook page.
Tapirs are born with spots and stripes which provide camouflage when out in the forests of Brazil.
The tapir family's closest relatives are rhinos and horses and they have distinctive snouts but as they get older their markings fade.
Tapirs live in the wild in jungle and forest lands in Central and South America as well as in South East Asia.
Brazilian tapir facts
Predators in the wild are crocodiles and snakes
They can grow up to 2.5m (8.2 ft)
Gestation period is 13 months
Tapirs are herbivores
They can live up to 30 years