Experts detonate unexploded WW2 bomb in Ramsey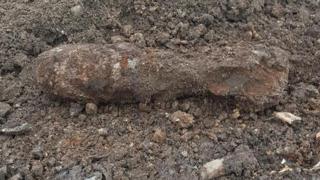 A controlled explosion has been carried out on an unexploded WW2 bomb that was unearthed at a new sewerage works on the Isle of Man.
The device was found near the BMX track and water pumping station in Mooragh Promenade, in Ramsey on Wednesday.
It was detonated "without incident" by Explosives and Ordnance Disposal specialists.
Insp Derek Flint said the cordon had been lifted. Two nearby homes were evacuated as a precaution.