Port Soderick Hotel: Attractions firm to 'rejuvenate' Victorian resort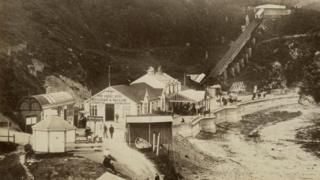 A former Victorian holiday destination in the Isle of Man is to be redeveloped by a company that specialises in UK tourist attractions.
The former Port Soderick Hotel near Douglas once attracted thousands of tourists each summer with its pleasure grounds and secluded beach.
Heritage Great Britain said it hoped to bring the site "back to life."
The premises have been derelict since 2002 when a pub run by the celebrity chef Kevin Woodford closed.
A Heritage spokesman said the company was working with architects and the Isle of Man government to "bring Port Soderick back to life for the local economy in the new millennia".
"We are committed to maintaining and developing the country's heritage sensitively and responsibly for the benefit of all," he added.
The company is expected to unveil its plans for the site "later this year".
Heritage Great Britain currently operates a number of sites including Snowdon Mountain Railway in North Wales, the Needles Landmark Attraction in the Isle of White as well as the Land's End and John O'Groats landmarks.
'Only free glen'
The Isle of Man was once a popular holiday destination with Victorian holidaymakers, many of whom were drawn to the Port Soderick Hotel with its private beach and stunning views.
Situated four miles south of Douglas, the 10-acre site was originally developed by the Forrester brothers and advertised as "the only free glen on the island".
Beach front attractions included swing boats, a camera obscura, an arcade and stalls selling candles to explore the nearby caves.
The building has not been used as a hotel since the 1950s although it was revived in the 1990s as the Anchor Pub under the ownership of celebrity chef Kevin Woodford.
Commissioners in the parish district of Braddan said the "rejuvenation of the area" was welcomed.
"The state of the site has been a concern for some time and we have been hoping for the redevelopment of the area for some considerable time."