French honour for five Isle of Man war veterans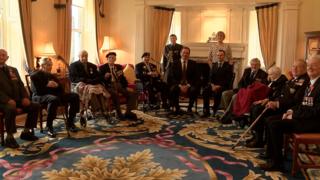 France's highest honour has been bestowed on five World War Two veterans at a special ceremony at Government House in the Isle of Man.
Thomas Kneale, Thomas Clague, John Connor, Edward Holden and Michael Higgins were presented with the Legion d'Honneur on Thursday.
They received their medals from the French Consul General Emmanuel Cocher.
The D-Day veterans, from all over the island, join four other Manxmen as recipients of the medal.
All were present at the ceremony - the others are Robert Tatlow, John Crellin, Arthur Corkill and Thomas Sayle.
The medal commemorates their participation in the D-Day landings in Normandy and their contribution to the liberation of France during the war.