Isle of Man bans smoking in cars with children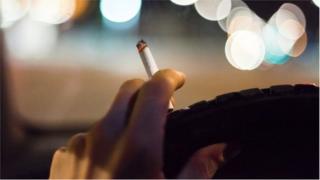 Isle of Man drivers will be banned from smoking in their cars if they are carrying children as passengers.
The move, which will become law on 30 March, follows similar bans in England and Wales and aims to protect youngsters from second-hand smoke.
The Manx government said those breaking the law would typically be fined £50, although this could rise to £5,000.
The regulations - brought under the Public Health (Tobacco) Act 2006 - were formally backed by Tynwald last week.
---
Passive smoking
Second-hand smoke contains more than 4,000 chemicals, some of which are known to cause cancer
It can stay in the air for up to two-and-a-half hours - even with a window open
Exposure has been strongly linked to chest infections, asthma, ear problems and cot death in children
Bans on smoking in cars with children present exist in some US states, including California, as well as in parts of Canada and Australia
---
A recent Isle of Man survey revealed that 23.5% of young people aged 11-18 years old are exposed to smoke in their own or someone else's car.
Health Minister Howard Quayle said the new legislation will "help protect vulnerable children from the harmful effects of second-hand smoke".
Passive smoke in children can increase the risk of asthma, meningitis and cot death, say public health experts.
Smoking was banned in the Isle of Man's pubs and clubs in 2008.