Isle of Man floods: Laxey bridge plans approved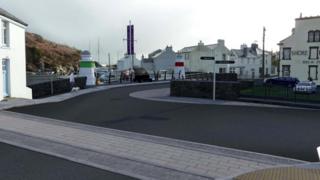 Plans for a new bridge to replace the 200-year-old structure which collapsed during last year's flash floods have been approved by the Manx government.
The bridge in Laxey collapsed under the weight of a double-decker bus during torrential rain in December.
The bus was not carrying passengers at the time and the driver escaped unhurt.
Infrastructure Minister Phil Gawne said the new bridge will be "better equipped to survive the sort of flooding that devastated homes and businesses".
The chosen design, inspired by the 'pepper pot' lighthouses at Laxey harbour, will be able to handle nearly three times the volume of water than the original bridge.
According to the government, 76 Laxey residents opposed the design with many wanting a stone arch design similar to the original .
Subject to a 21-day appeal period, the Department of Infrastructure will start work next month.