Albert Gubay charity pledges £10m a year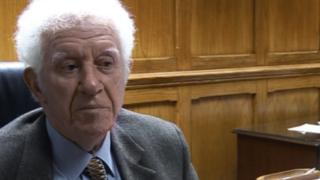 A property firm owned by the late billionaire, Albert Gubay, has pledged to contribute £10m a year to charity.
The Isle of Man-based Derwent Group, which is estimated to be worth in the region of £700m, said this initial amount could double in five years.
Mr Gubay, who was once honoured by the pope for his charity work, died at his home in Cheshire, aged 87, in January.
The Welsh-born entrepreneur founded the Kwik Save supermarket chain in 1965 before amassing a fortune of £1bn.
A Derwent Group spokesman said the company will continue Mr Gubay's philosophy of "maximising profits to maximise good".
He added: "We must follow in the Founder's footsteps and be strong minded to be soft hearted."
The firm intends to reinvest 50% of profits back into the company- the other half will be fed back into the Gubay Foundation to be distributed among various charities.
It is not yet known which organisations will benefit, but the company has asked that all potential applicants "be patient".
It is thought the first donations will be made this autumn.
Mr Gubay was born in 1928 in Rhyl to an Irish mother and Iraqi Jewish father.
'Aggressive genius'
He began his business career in North Wales selling sweets during rationing in the aftermath of World War Two.
He went on to launch several successful business including the Total Fitness empire and acquiring property developments in Liverpool and Manchester.
As a young man he made a promise to give half of whatever he made to God.
"That promise guided and fuelled his drive in the first half of his life," continued the Derwent Group.
"He realised that what he had to offer to the world was his aggressive business genius. At no time did he care what people thought of him, because he knew that instead of building wealth for himself his whole focus was on the creation of something for future generations of good causes".