Isle of Man floods: National Sports Centre 'still drying out'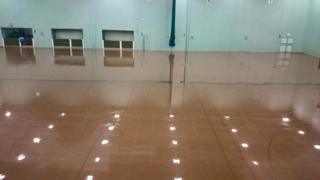 Work to repair a sports centre left devastated by "unprecedented flooding" is being held up as it is yet to fully dry out, a minister has said.
Parts of the National Sports Centre in Douglas were submerged under two feet of water on 3 December after a river burst its banks during torrential rain.
Facilities including sports halls, an athletics track and astro-pitch have been closed ever since.
Minister Tim Crookall said some indoor facilities are "still drying out".
At the time of the flooding the sport centre's manager Carl Glover said the flooding was "unprecedented", adding the "devastation was unbelievable".
Only the swimming pools, spa suite and fitness zone have since reopened.
The education department is working with insurers and in some cases "facilities will be improved rather than simply replaced".
Mr Crookall, Member of the Legislative Council, said work on indoor facilities can not begin until a specialist company has certified to insurers that the facilities are dry.
The main sports halls, which are used by hundreds of people and teams each week, were completely submerged as were the squash courts and bowling green.
It is hoped the main sports halls could reopen by May.
The athletics track could open this month after it has been cleaned and sanitised.
Specialists have taken samples of the Bowl pitch and a report is due shortly.
Work to replace the astro-pitch cannot begin until spring.
Many activities have been taking place at facilities at nearby schools.
---
National Sports Centre - estimated opening
Main sports halls - May
Squash courts - Unknown
Bowls - Unknown
Athletics track - February
The Bowl - Unknown
The Sports Institute - Unknown
Astro-pitch - Summer 2016