Island's first dedicated breast cancer unit opens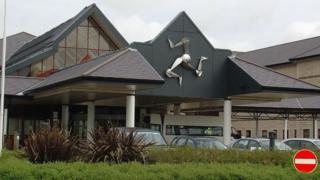 The Isle of Man's first dedicated breast cancer unit will open on Monday, it has been announced.
The Manx Breast Cancer Support Group (MBCSG) said the facility will include an ultrasound room and dedicated consultancy spaces for patients.
The government committed to cover the cost of the relocation and to free up the space for the clinic, but said it was unable to fund the unit itself.
The £1.5m needed for the project was raised through fundraising by MBCSG.
The facility at Noble's Hospital in Braddan will be the first time all breast cancer services have been available in one place on the island.
A Health Department spokesman said it means "screening, diagnosis, consultations and treatment can take place in a single location and with state-of-the-art facilities".
Dr Rebecca Miller said: "It has been tricky for people moving between sites.
"The poor patients have had to move from one clinic to the next and it can't have been easy."
"This new facility is fabulous, we are so thrilled, proud and very excited. It will make us more efficient and more patient-friendly and be able to treat people more quickly in a much nicer environment."
One in eight women will develop breast cancer at some time in their life.