Newby's firework robbery: Man, 25, charged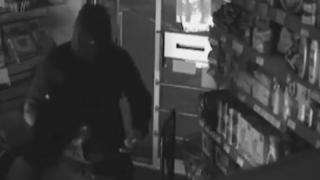 A man has been charged following a robbery in which a lone shop assistant was threatened with a lit firework.
Police released CCTV footage of the 3 November raid during which £1,000 was stolen from Newby's Glen Falcon Road shop in Douglas.
A 25-year-old man from Douglas will appear in court later charged with robbery, police said.
The man is also charged with an offence of burglary relating to an incident at Billown Quarry near Castletown.