Isle of Man horse trams: Committee to explore closure alternatives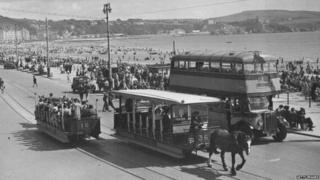 Manx politicians have agreed to see if there is any way of saving the island's iconic horse tram service.
On Friday Douglas Borough Council, which has operated the 1.6 mile (2.6 km) service since 1876, said the trams were "no longer financially viable".
A committee has now been established by members of the House of Keys to examine alternatives to axing the service.
"We need to examine all the different options to save this iconic service," said Kate Beecroft MHK.
Those options, she said, could include "forming an independent trust, private sector sponsorship or a reduced service - I'm sure there will be more options which haven't been looked at."
Despite about 60,000 local people and visitors using the horse tram service last year, it still ran at a loss of £263,000.
'Unacceptable burden'
Thousands have signed an online petition to protest against plans to axe the service, which runs along Loch Promenade.
The council previously considered plans to amalgamate the Tramway Terrace stables site with the tramway hub at Strathallan.
The proposal had been to finance the £2.9m scheme with a 30-year loan. Including interest payments, this would have cost the council £4.8m.
Council Leader David Christian said this would place an "unacceptable burden on the ratepayer for the foreseeable future".