Strong winds lead to Manx promenade closures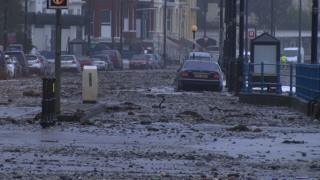 Strong winds at high tide have led to some localised flooding and the closure of a number of promenades on the Isle of Man.
Debris was thrown by waves on to many promenades, including at Douglas, and a number of trees have been uprooted and are blocking roads.
Earlier, ferries to and from Lancashire and a number of flights were cancelled as winds of 75mph hit the island.
Department of Infrastructure teams are working to clear the fallen trees.
The A18 Mountain Road has now reopened having been closed since 03:00.
The Met Office said the strong winds were forecast to "subside later".
The Isle of Man Steam Packet Company cancelled both afternoon crossings and said an announcement on their 19:45 sailing would be made later.