Marine Drive car crash: People warned not to view site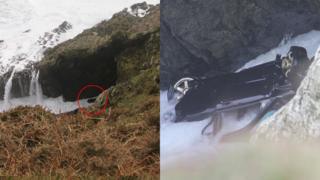 People have been warned not to put themselves in danger by trying to view a car which went over a cliff and rolled 30m (100ft) into a ravine.
Three people were rescued from the cliff face after the car they were driving left Marine Drive at about 21:00 GMT on Saturday.
The driver and two passengers only suffered minor injuries.
A police spokesman said it has "not yet been possible to recover the car which remains on the rocks".
He said people should "not put themselves at risk" trying to view the car.
"We have had reports that people are attending the area and peering over the cliff edge to look at the vehicle.
"In doing this they are putting themselves in danger of slipping or falling over the cliff edge."
Police said the Department of Infrastructure will fence off the area until the vehicle can be recovered.
A full rescue operation was carried out on Saturday in "extremely poor weather conditions" involving the coastguard, lifeboat and the fire and rescue service's specialist rope team.
A coastguard spokesman said the car had plunged down the 100ft cliff coming to rest very near the foot of it.
He said the three occupants managed to free themselves but were left clinging to the cliff.
Station Officer Colin Kirkham said it had been a "dramatic situation" and praised all those involved in bringing it to a "successful conclusion."