Isle of Man horse trams: More than 2,000 people sign petition to save service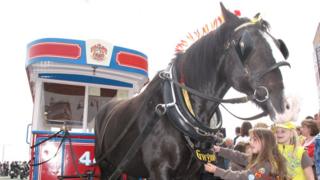 More than two thousand people have signed a petition to protest against plans to close the Isle of Man's horse tram service.
Douglas Borough Council, which has operated the 1.6 mile (2.6 km) service along the promenade since 1876, said it was "no longer financially viable".
Despite about 60,000 local people and visitors using the service last year, it still ran at a loss of £263,000.
The petition says the trams are an "intrinsic part" of Manx heritage.
A spokesman for Friends of Douglas Bay Horse Tramway said the 140-year-old service was an "icon for both Douglas and the Isle of Man".
The council said the decision had been taken "with very great regret".
The council previously considered plans to amalgamate the Tramway Terrace stables site with the tramway hub at Strathallan.
The proposal had been to finance the £2.9m scheme with a 30-year loan. Including interest payments, this would have cost the council £4.8m.
Council Leader David Christian said this would place an "unacceptable burden on the ratepayer for the foreseeable future".
According to the council the tram's horses will be "relocated to good homes" and the rolling stock will be offered to transport museums.
Both the Tramway Terrace, stable site and Strathallan will be sold.
Manx National Heritage said it was "extremely disappointed."
A spokesman said the announcement is "contrary to reassurances they had previously received from Douglas Corporation".