Motorcyclist 'lost control' before Isle of Man death crash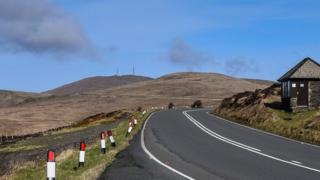 A man died when he lost control of his motorbike and slid into the path of an oncoming van, an inquest has heard.
John Phillip Kane, 54, from Northolt in Middlesex, was killed after hitting a van on the A18 near Keppel Gate on the Isle of Man Mountain Road last year.
A police report said the crash at about 19:15 BST on 10 September happened in "near perfect conditions".
Coroner John Needham recorded a verdict of accidental death at Douglas Court House earlier.
Blunt force trauma
Mr Needham said the qualified driving instructor, who had been driving "fast but smoothly", was an experienced rider.
Mr Kane had recently bought the BMW PR motorcycle he was riding.
He had told his family that he knew the TT course "like the back of his hand".
Mr Kane had been riding on the course before heading back to his Bed and Breakfast in Douglas.
A witness told the inquest as Mr Kane had approached the bend near Keppel Gate, he appeared to lose control of his bike.
The well-loved family man was pronounced dead at the scene, the inquest was told.
A post-mortem examination found that the stone mason suffered multiple injuries caused by massive blunt force trauma.
"This was a tragic accident caused perhaps by a lapse in judgement," Mr Needham said.