Isle of Man experts 'perplexed' by dead otter find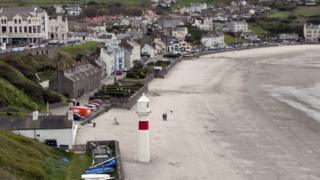 A dead otter which washed up on an Isle of Man beach has "perplexed" wildlife experts, who said the island has never been home to the mammal.
The otter was found by a member of the public washed up on Port Erin beach on Friday.
Manx Wildlife Trust Reserves Officer Lara Howe said it had been "checked for a chip but there isn't one".
The trust believe the island has never had a resident population, but said it would "love" to be proved wrong.
Otters came close to extinction in the UK as their numbers declined from the 1950s to the 1980s but since then populations have been recovering and they are now living in every English county.
Ms Howe said since the discovery of the dead otter, "we've had a few calls from people who think they have seen an otter".
"We haven't had any photographs or videos yet, so if anyone spots an otter, it would be great if they could record it," she said.
"We would love to have a resident population".