Plans to rebuild collapsed Isle of Man bridge put to public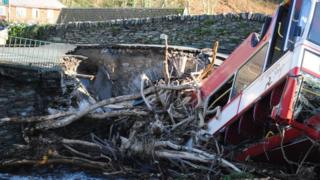 Residents of an Isle of Man village will be consulted over plans to rebuild an historic bridge which collapsed during flash flooding last year.
The 200-year-old structure collapsed under the weight of a double-decker bus during torrential rain last December.
The bus was not carrying passengers at the time and the driver escaped unhurt.
The Isle of Man government said a series of four design possibilities would go on display in Laxey Commissioner's office on Tuesday.
Members of the public are invited to give feedback to government representatives at the event.