Joshua Caley: Isle of Man parents appeal over missing son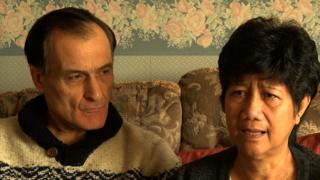 The parents of a teenager who went missing on New Year's Eve in the Isle of Man have appealed for people to "keep looking for him".
A full scale search was launched after 19-year-old Manchester university student Joshua Caley disappeared at about 01:00 GMT.
Security cameras captured a man falling into Ramsey Harbour from the East Quay.
His mother Joy said: "Please, please, please if you have a private boat, or some spare time, keep looking."
She added: "This is unbearable - I just can't rest until he's home.
"The Lord lent him to us for 19 years and he had a good life - now we need to bring him home.
"So many people have been out looking for him and we really appreciate it but we need everybody to keep looking."
On New Year's Eve Joshua, a maths student at the University of Manchester, had been due to see in the New Year with his parents at the home of family friends.
However, his plans changed and he spent it instead with his own friends in Ramsey.
His parents had arranged to pick him up after the party.
In the early hours of New Year's Day Josh became separated from his friends and has not been seen since.
'Typical teenager'
"He's such a handsome boy, I would say he's perfect but I am his mother," continued Mrs Caley.
"He's fun-loving, loves his friends and is so laid back. He's just a typical teenager but he had a plan for his life, he wanted to be successful.
"He was determined to go to university and he achieved that.
"Everything was perfect, but it's not like that any more," she added.
Police said the full scale operation to find Josh had been scaled down although the coastguard would continue to conduct a number of searches when the tides are favourable.