Joshua Caley: Isle of Man search for missing teen to resume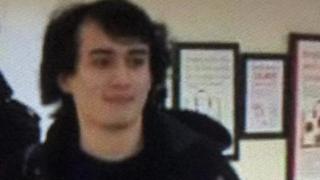 The search for a teenager who disappeared on New Year's Eve is due to resume later this week, according to the Isle of Man coastguard.
A full scale operation was launched on New Year's Day after 19-year-old university student Joshua Caley went missing at about 01:00 GMT.
Security cameras captured a man falling into Ramsey Harbour from the East Quay.
A coastguard spokesman said more searches would take place during the low tides on Thursday.
On Facebook, Joshua's mother, Joy Caley appealed for "dog walkers, fishermen and others to continue looking out for him".
'Unfathomable grief'
She added that her son, a student at the University of Manchester, had been due to return to the UK on Wednesday to continue studying for his exams.
Members of the family are currently making their way to the Isle of Man "to help us deal with this unfathomable grief", continued Mrs Caley.
Police said a full scale operation to find Josh had been scaled down although the coastguard would continue to conduct a number of searches when the tides are favourable.