'Mad Friday' tests new IoM custody block after 24 arrests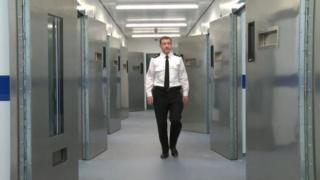 Extra capacity at the Isle of Man's new custody block was required for the first time over the weekend after 24 people were arrested, police said.
A spokesman said 15 of the arrests were made on so-called "Mad Friday" with offences including drug possession, assault and possession of a weapon.
Chief Inspector Phil Shimmin said the new 20-cell facility had been "really tested."
Police received 177 calls between 08:00 GMT on Friday and 08:00 Monday.
The last weekend before the Christmas holiday is usually one of the busiest days of the year for pubs and clubs, which prompted warnings urging people to drink responsibly.
Mr Shimmin said: "Friday night into Saturday was particularly busy, and this was the first time the extra capacity the new custody facility provided was really tested".
The £2.8m custody block was opened in March to replace a 40-year-old facility which had been deemed unfit for purpose.
The move meant the amount of cells doubled at police headquarters.
A number of people have been charged and are due to appear in court later.