James Burge funeral: Dozens turn out for WW2 veteran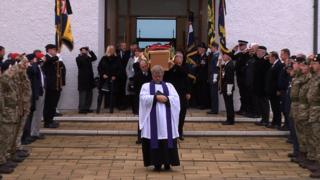 Dozens of people have attended the funeral of a World War Two veteran who outlived all of his family and friends.
James Burge, who served in the Royal Army Service Corps and was held in a Japanese prisoner of war camp, recently died aged 96 in his Manx care home.
About 70 people gathered at the Lawn Cemetery in Douglas after the Royal British Legion's Facebook appeal for people to come to pay their respects.
Mr Burge died without any known family or friends in the Isle of Man.
The charity's Douglas branch chairman Carl Underwood said: "Unfortunately, James has either outlived or lost touch with any friends or family that he had."
He said he felt it was appropriate to give Mr Burge "the send-off he deserves".
'A real gentleman'
The service heard Mr Burge, who was born in Essex on 2 August 1919, joined the army aged 20.
He went on to fight in both France and Germany before being sent to Singapore where he was captured in 1942.
It was here, according to Mr Burge's eulogy, that he "suffered much brutality and violence - something which caused him severe hearing problems and anxiety in later life.
"Despite that, James always remained positive, he was a real gentleman - a quiet and brave loner who was well-respected by everyone who knew him."