Isle of Man glen safety warning after flash floods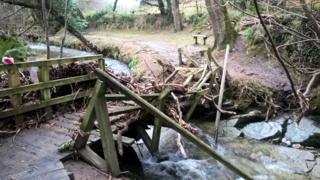 Walkers have been issued with a safety warning after flash flooding caused damage to Manx glens.
The Isle on Man government said some areas have been cordoned off after storms and heavy rainfall caused flooding and landslides on 3 December.
Partial closures are in place at Laxey, Glen Maye, Glen Helen, and the Groudle.
A spokesman said: "Visitors are requested to follow the safety signs. Taped off areas may signify hazards such as riverbank erosion."
The environment department is working to "reinstate full access".
The Manx government has said the repair bill for storm damage on the Isle of Man could run to "many millions of pounds" and the clean up operation is expected to take several weeks.