'Millennium Falcon' thieves arrested on IoM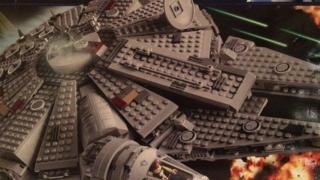 Two people have been arrested after police seized more than 500 items, including Star Wars toys, from a property in Douglas.
Police said a 33-year-old man and a woman, 24, were arrested on Saturday for "multiple offences of theft".
Amongst the recovered items were models of the Millennium Falcon spaceship, clothing, and household items.
Insp Derek Flint said they believed the items were stolen from retail outlets to be sold via the internet.
Police warned local shop owners to remain "vigilant in the run up to Christmas."