Isle of Man storm clean-up 'could take weeks'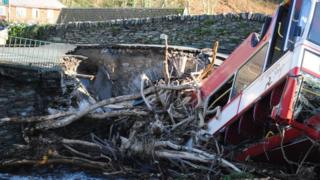 A clean-up operation to deal with the effects of severe storms in the Isle of Man is likely to take "some weeks", according to the government.
Storm force winds and heavy rain caused flooding and landslides on Thursday.
The Department of Infrastructure's Alan Hardinge said: "All the drain and the gullies now have to be cleared. There's an enormous amount of work to do."
A safety assessment is being conducted ahead of plans to remove a bus that fell into a river.
The double-decker fell into the Laxey River at about 16:00 GMT on Thursday when a 200-year-old bridge collapsed in heavy rain. The driver escaped unharmed.
"The area has been made safe, it's cordoned off so no one can access the site," continued Mr Hardinge.
"In the meantime we are working with the environment department, Manx Gas and Manx Utilities to make sure when we remove the bus, we do it in a way which doesn't cause any problems- it's doubtful the bus will be removed this week".
Police said ten residents of Laxey village were evacuated from their homes on Back Shore Road due to concerns about soil erosion on a nearby cliff.
Manx Telecom, which increased its work force by 80% over the weekend, said its priority was to "restore services to customers who cannot make or receive phone calls due to storm and water damage".
'Extensive damage'
The National Sports Centre in Douglas also suffered "extensive damage" in the floods.
A spokesman said that the sports halls, squash courts and bowls hall will be closed until further notice but the pool and gym reopened on Monday.
Officials confirmed that most of the weather damage did not stop after the heavy rain last week- over the weekend the high winds brought down about two dozen trees.
Insp Derek Flint said: "Over the past few days we have seen some amazing feats of heroism from the emergency services. Undoubtedly, lives have been saved."
The Mountain Road, which was closed on Thursday after a landslide, was reopened after the route was cleared on Sunday.