Heavy rain on the Isle of Man causes landslide and floods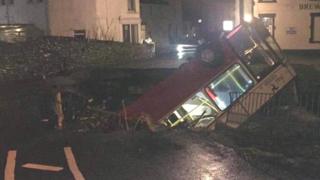 Heavy rain has caused a landslide and flooded a number of roads on the Isle of Man, police have said.
The driver of a bus had a narrow escape when a bridge collapsed in Old Laxey and the Mountain Road was closed after a landslide at about 16:30 GMT.
Police said some roads have become "impassable", adding other affected areas include Cooil Road in Douglas, Laxey, Richmond Hill and Glen Helen.
The Civil Defence helped motorists who were left stranded.
A police spokesman said: "We will respond to calls on a priority basis, dealing with the vulnerable first."