DONG Energy to explore Isle of Man wind farm potential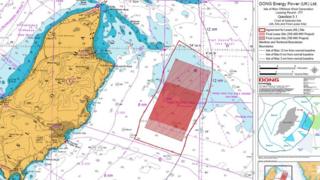 Wind farms could be built off the Isle of Man after a Danish company reached an agreement with the Manx government.
DONG Energy said a commercial feasibility study looking into wind speeds was at an early stage.
While opportunities were "significant", a government spokesman said fisheries and shipping links must be protected.
Politicians last month granted Manx Tidal Energy Ltd a licence to explore the potential of harvesting tidal energy in the north of the island.
The government said any wind farm development would require a full environmental impact assessment.
The 12 nautical miles surrounding the Isle of Man are controlled by the island, which has responsibility for marine planning.
The Manx government has previous stated that any electricity generated by wind farms would go directly into the UK's National Grid.
A wind farm development would be expected to create jobs and generate an annual income expected to run into millions of pounds, said the Manx government.