Body of minke whale washed up on Isle of Man beach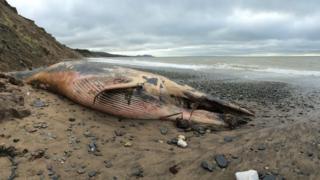 The body of a dead minke whale has washed up on the Isle of Man's west coast, wildlife experts have confirmed.
The Manx Wildlife Trust said the carcass was discovered near Glen Wyllin at the weekend and probably washed ashore during the recent storms.
A spokesman from the trust added that the whale - thought to be about six metres (20ft) long - probably died from "natural causes".
The species is often sighted in the Irish Sea during the summer months.
Marine Wildlife Officer Lara Howe said: "It is quite rare for a minke whale to get washed up here on the island. I suspect it is a result of the stormy weather we have been having recently".
The last time the body of a minke whale washed up on the island was in July last year.
The carcass which is too decomposed for an autopsy, will either be buried in situ or disposed of by the Manx government, added the Manx Wildlife Trust.
Minke whales
Found worldwide but prefer cooler regions to tropical areas
Measure seven to 10m (23ft to 33ft) long and weigh five to 10 tonnes