'High-profile' primates set for Manx breeding programme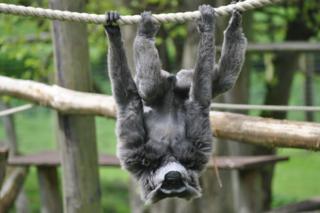 A pair of endangered silvery gibbons will be brought to an Isle of Man wildlife park next year as part of a breeding programme.
According to experts, about 2,000 are currently left in the wild where they live exclusively on the island of Java in Indonesia.
Curraghs wildlife park manager Kathleen Graham said she hopes it can help "contribute to the species' survival."
The pair will arrive in the Isle of Man in July 2016.
'Habitat destruction'
According to the park, the primates will be the most "high-profile" animals ever housed at the Curraghs and could help boost visitor numbers.
Mrs Graham said the park has made a significant investment in a new enclosure which could cost six figures and will incorporate its own island.
A male silvery gibbon from the USA will be paired with a female at Howletts Wild Animal Park in Kent before the pair are brought to the island next year.
In Java, the species is under threat due to habitat destruction and the illegal pet trade.
Silvery gibbons
The silvery gibbon is a primate
Its coat is bluish-grey in colour, with a dark grey or black cap
Its diet consists of fruits, leaves, and flowers.
The female gives birth to a single young, after a seven-month gestation