Dr John Taylor: 'Time-eating clock' inventor honoured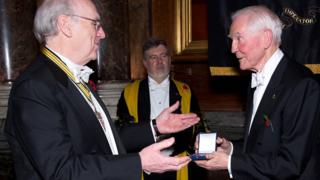 An inventor who designed and made a series of "time-eating clocks" to "make time-keeping interesting again" has been recognised for his work.
John Taylor, from the Isle of Man, said he was "honoured" to receive the Harrison Medal by the Worshipful Company of Clockmakers.
The medal has only been awarded to six other people and commemorates outstanding achievement in horology.
The 79-year-old's clocks are valued at several million pounds each.
His unique clocks, which have no hands or numbers, feature giant creatures including a grasshopper and a dragon which appear to eat time.
The "chronophage", meaning "time eater", advances around the clock face, with each step marking a second.
Prolific inventor Dr Taylor has more than 400 patents to his name.
His most famous creation is the bimetal thermostat control inside electric kettles - more than two billion have been sold worldwide.
Founded in 1631, the Worshipful Company of Clockmakers is the oldest horological institution in the world.
Previous recipients of the Harrison Medal include the renowned astronomer and physicist Sir Arnold Wolfendale FRS and horologists Jonathan Betts MBE and David Thompson.
Philip Whyte, The Master of the Company, said it was a "pleasure to recognise such a deserving recipient, whose efforts and contribution to the scholarship and understanding of clock and watchmaking in recent years cannot be understated."
The award is named after John Harrison, who invented the marine chronometer.
Harrison Medal recipients
2002 - Jonathan Betts for his work furthering horological knowledge
2004 - Dava Sobel for her internationally acclaimed book on John Harrison
2006 - Sir Arnold Wolfendale for his outstanding work and inspirational leadership
2007 - William Andrewes for his distinguished career and internationally acclaimed work
2009 - David Thompson for services to the history and technology of horology
2012 - David Poole for work in the education of horologists of all ages
2015 - Dr John Taylor for outstanding achievements in the field of horology
Source: Worshipful Company of Clockmakers