Mystery over ashes urn left in Isle of Man bottle bank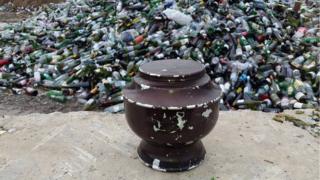 A recycling company is desperately trying to trace the owner of an urn containing ashes which was dropped into a bottle bank on the Isle of Man.
A worker from Corlett Building Materials in St. John's found the metal container on Tuesday.
Manager John Corlett said: "It's a complete mystery - it's impossible to trace where it came from. For now, it's just sitting here in my office.
"I just can't believe it was put into a bottle bank by accident."
His company recycles glass dropped into bottle banks across the island.
"The worker who found it was a bit surprised," added Mr Corlett. "He brought it straight up to the office and I have absolutely no idea what to do with it.
"If it was empty it would be straightforward - but it's not.
"There's no inscription so if anyone recognises it then please come and collect it."