BBC Children in Need: Losing a father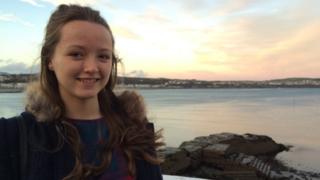 Twelve years ago a young girl from the Isle of Man found herself devastated and confused as she tried to come to terms with the sudden death of her father.
Now aged 18, Becca Caitlin Greatbatch said she found it difficult to understand exactly what had happened.
Her father had been battling cancer when he died.
The teenager, from Douglas, was reluctant to talk to her family for fear of adding to their grief.
Now a race walker competing at an international level, Becca said the help of a local bereavement charity has proved "invaluable".
Cruse Bereavement Care Isle of Man, founded in 1988, helps people understand their grief and cope with their loss. It is part-funded by Children In Need.
'Encouraged to talk'
"Because I didn't have any experience of death- I would come home every day expecting my dad to be waiting for me but of course he wasn't.
"When I started going to Cruse, I was encouraged to talk about my feelings and what had happened to me.
"Because everyone there was going through the same thing I knew people weren't going to think that I was weird".
The charity holds regular sessions where youngsters can talk about their feelings in a "safe environment".
It is one of two Isle of Man-based charities to receive help from last year's Children in Need appeal.
Youth project officer Gill Skinner said a child's experience of grief is very different to that of an adult.
"As children grow up and reach different levels of maturity and understanding they almost have to grieve afresh."
'Instinctive' helper
"It's about normalisation- these are just normal kids which have had something abnormal happen to them and sometimes that forces them to grow up very quickly".
Having been through so much herself, Becca said she now wants to give something back to the charity which helped.
"It became instinctive to help others coming to the charity for the first time because I really understood what they were going through.
"It's easy to say you understand what people are going through but you can't unless you have actually been through it," she said.
Last year's BBC Children in Need raised more than £32m and helped over 1,000 charities across the British Isles.
This year's appeal will be held on 13 November and every penny from the money raised will go towards helping disadvantaged children and young people.