Douglas East by-election: Jonathan Joughin elected MHK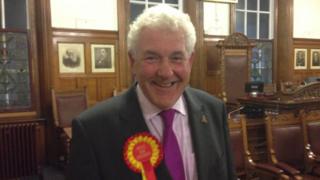 A former Douglas town councillor has been elected to the House of Keys after a closely fought by-election in the Isle of Man.
Jonathan Joughin was elected by the residents of Douglas East finishing just 13 votes ahead of Clare Bettison.
Speaking after his election Mr Joughin said it was the "best day of his life."
The seat became vacant when businesswoman Brenda Cannell stepped down from front-line politics after 19 years in September.
In total, 865 votes were cast which is less than a third of the 2,835 registered to vote .
Mr Joughin will hold his position until next September's general election.
The winning number of votes was the lowest since 1996.
Douglas East
Claire Bettison
146
Kurt Buchholz
75
Jonathan Joughin
159
Richard Falk
145
John McBride
90
Geraldine O'Neill
131
Catherine Turner
108
Source: Isle of Man government