Irish skipper fined for illegal fishing in 'The Targets'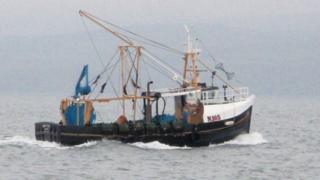 An Irish skipper caught fishing for king scallops in a closed area off the Manx coast has been fined £5,000, the government has confirmed.
Ryan Newell, of County Down, and the crew of the Irish-registered Golden Fleece were caught fishing illegally off the north west coast on Sunday.
Mr Newell admitted the offence at Douglas Court House on Tuesday.
He was fined £5,000 and ordered to forfeit his catch of 33 bags of scallops, worth £2,163.
The government said the boat was detained by its fisheries protection vessel, Barrule.
Environment minister Richard Ronan said protecting local fishing stocks was a "priority".
The king scallop fishing season runs from 1 November until 31 May.
Mr Ronan said: "The sea fishing industry is worth £13 million to the Island's economy and it is carefully managed to ensure it isn't overfished.
"I hope this latest prosecution sends out the message that we will continue to take a robust approach to anyone breaching regulations."
Last month, two British men were fined for illegal whelk fishing without a licence in Manx waters.