Pilot dies in Isle of Man helicopter crash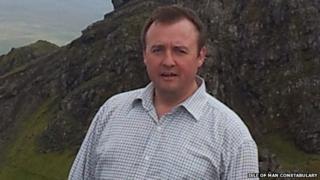 A helicopter pilot has died in a crash on the Isle of Man during high winds.
Matthew Chapman, 48, from Louth, Lincolnshire, was the only person on board the privately-owned helicopter when it came down at about 09:00 BST.
He had dropped off two passengers shortly before the crash in the Baldwin Valley, near the 33rd Milestone, Isle of Man Constabulary said.
The annual TT motorbike racing festival was due to start this weekend but the opening race was delayed by the winds.
Police said the pilot of the Bell Jetranger aircraft suffered fatal injuries and was pronounced dead at the scene.
His family have been informed, they said.
Insp Derek Flint said the "difficult incident" had presented "a number of challenges" as it occurred during the TT festival and during strong winds.
He said: "He has now been taken from the scene, which will now be preserved for the arrival of the inspectors from the Air Accidents Investigations Branch who should arrive later this evening.
"The scene will remain under guard and members of the public are asked to remain clear of the location at this sensitive time. The coroner for inquests has been informed."
The six-lap Superbike event was due to be staged on Saturday but has been postponed until Sunday.
Mountain Road has been closed between Ramsey and Creg Ny Baa until further notice while the cause of the crash is being investigated by police, the Isle of Man Rescue Service and air crash investigators.