Isle of Man TT 2015: Thousands expected for Ramsey Sprint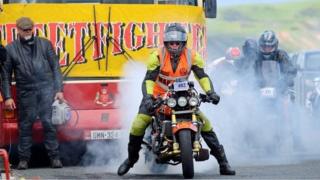 Thousands of TT racing fans are expected to attend the annual Ramsey Sprint in the north of the Isle of Man on Tuesday.
The event, open to anybody who has a motorbike, sees bikers from all over the world compete over a one mile (1.6km) strip of promenade.
The Ramsey Sprint will take place near Mooragh Park on the town's sea front.
The Red Arrows had been due to perform at 15:00 BST but have been cancelled due to changes in the racing schedule.