Isle of Man TT 2015: Thousands attend Simon Andrews lap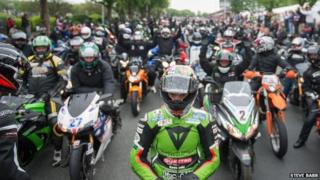 Thousands of bikers have completed a lap of the Isle of Man TT course in memory of English rider Simon Andrews.
The Worcestershire racer, who made his TT debut in 2011, died from injuries he sustained in a crash at last year's North West 200 in Northern Ireland.
Last year about 5,000 bikers from all over the world completed a lap of the 37-mile (60km) Mountain Course.
This year's lap set off from the TT grandstand at 10:00 BST.
The "legacy lap", which is expected to see riders stretched out for 15 miles, had a full police escort with all riders asked to remain in convoy.
Last year, Andrew's Honda team-mate John McGuinness described the event as a "fitting tribute to a hugely talented rider."
Organiser Mark Walls said: "He was a young rider lost too early to the sport be loved".