Douglas promenade an 'embarrassment', Chief Minister says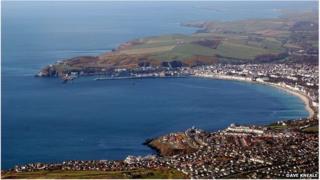 Douglas promenade has been labelled an "embarrassment" by the island's Chief Minister as plans for a £21m project go on display in the capital.
Earlier this month the Manx government submitted its proposals for an overhaul of the two-mile (3.2 km) promenade for planning approval.
Ideas put forward include road and drainage improvements and moving the 140-year-old horse tram tracks.
Allan Bell also said the promenade was "dangerous" in places.
"Work has got to be done. We can't leave it any longer or someone is going to get injured," he said.
"The whole of the sub-structure is cracking up and if you do just re-lay the surface it will last five years before it needs doing again.
"The plan is to completely rebuild the promenade which is why it is taking so long and costing so much money. When it is done it should last a great many years," he added.
Minister Phil Gawne said it is a "once-in-a-generation opportunity to deliver an exciting, inspiring scheme".
If the plans, which are on display at the Sea Terminal in Douglas, are approved they will go to Tynwald in October.
Subject to political approval, work is scheduled to begin in November.